Winnipeg Studio Theatre is now offering Winter Session Musical Theatre classes for youth and young adults!
Under the direction of Brenda Gorlick, classes runs from January 6th until May 26th, and offer triple threat training in acting, singing, and dance to emerging artists ages 11 and up. For more information or to book an audition appointment, contact Rebekah at: studioworksacademy@gmail.com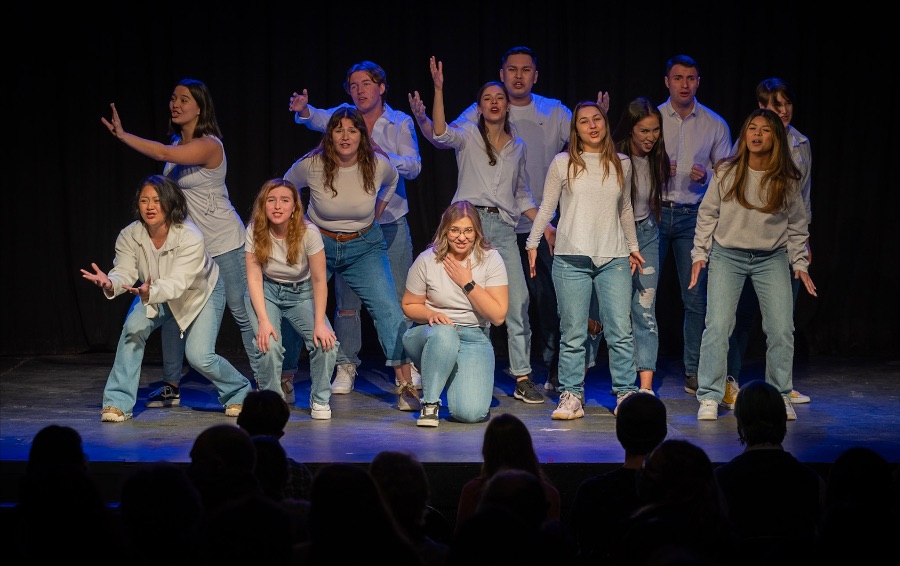 Program Fees:

Junior Division $375.00
(Thursdays 6:30 pm – 7:30 pm)

Senior Division $750.00
(Thursdays 6:30 pm  -8:30 pm)
---
2022 Program Details
Thursday nights, commencing September 30th until late May. 
Junior classes (age 10 – 14) 5:45-6:45 pm
Senior classes (age 15+) 7:00-9:00 pm
We are excited to focus on several showcase performance opportunities including a tribute concert, cabaret night, fundraising performances, and community outreach shows.
The highlight this coming year is the continuation of Broadway Without Borders. This special program connects our company with another international musical theatre young company. This past year we joined forces with a theatre company in Riverside, California and the project was a huge success. We are currently in talks with Operation Triple Threat from Barbados to create an original collaborative project.
The Academy is specifically geared for students who wish to improve their skill level in musical theatre and performance techniques. The training consists of vocal work, movement, and dance components as well as script work combined with performance opportunities throughout the season. Up to 12 students are accepted annually into the junior program and 24 into the senior troupe; acceptance is by audition only.
Bursaries are available for the program and are based on audition and financial need.
The History of Winnipeg Studio Theatre's StudioWorks Academy
Winnipeg Studio Theatre's StudioWorks Academy was launched in 2004 to provide emerging musical theatre artists an outlet for intensive training. It is a two-tiered program combining in-class instruction and production work. The Youth Ensemble offers year-round classes in triple threat technique for students aged 10-18 divided into junior (ages 10-14) and senior levels (ages 15+).
The troupe made their theatrical debut at the Winnipeg Fringe Festival in 2004 and have since performed in DisneyWorld as part of the Magic Music Days program, made several tours to New York City for Broadway training opportunities, and was featured at the Canada Games 2017 Opening Ceremonies.
Selected past productions include Highlights from Be More Chill (2021) Seussical the Musical (2019), School of Rock (2018), Legally Blonde (2015), Urinetown (2014), and Thoroughly Modern Millie (2010).
---
A Look Back!
Highlights from Be More Chill – June 2021
---
---
School of Rock – May 2018
Photos by Matt Duboff Photography