Artist Spotlight – October 2023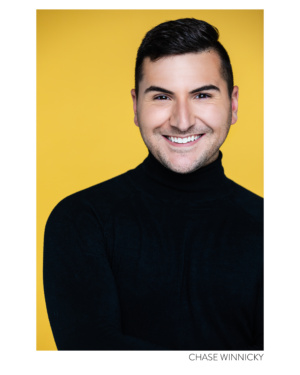 Chase Winnicky
Chase is an internationally toured and proudly queer performer and director. Outside of theatre he loves to travel, foster puppies through Spirit of Hope rescue (his saving grace through the pandemic) and enjoy great food and drinks with family and friends.
Favourite Show:
 Musical – A Little Night Music / Play – The Curious Incident of the Dog in the Night Time
Show or Company you'd like to work on/with someday:  
I really want to explore more of Canada with my work and work all over the country. As a director I'd love to tackle It Shoulda Been You, Legally Blonde, and Terrence McNally's Master Class. As an actor a few dream roles are Dr.Pomatter in Waitressand the Emcee in Cabaret.
Special Project you've worked on to date, and why it left an impression on you:  
Assistant directing Million Dollar Quartet at Theatre Calgary, and learning under my friend and mentor Thom Allison. That rehearsal process with that specific group of artists both onstage and off was such a special experience being my first show out of the pandemic. We brought something fresh and important to that story. I truly cherish my time at that theatre, and would jump at the chance to work there again.
Upcoming/What's next:
I'm currently in Montréal working on Beautiful: the Carole King Musical (a co production between the Segal Centre and Royal MTC – catch us in Winnipeg this January!), then I'll be playing Tumnus and Mr. B in a new musical adaption of Narnia at MTYP (a co production with Toronto's Bad Hats theatre), and next spring I'll be directing Songs for a New World for Winnipeg Jewish Theatre.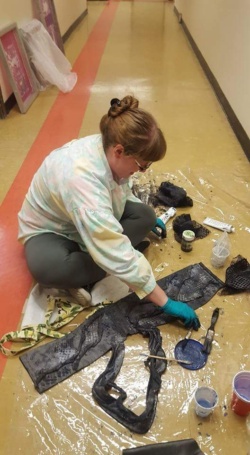 Ksenia Broda-Milian
I'm a set, costume and lighting designer – people ask me to pick a favourite discipline and I never can! I'm also really proud to be an arts educator and for completing my training and exams to be a Rick Hansen Foundation Accessibility Certification Professional, to assess the built environment for meaningful access.
Favourite Show:
Cats (sorry, not sorry!), Little Shop of Horrors, West Side Story, A Little Night Music, Hair, The Mystery of Edwin Drood, Priscilla Queen of the Desert, Fiddler on the Roof… 
Show or Company you'd like to work on/with someday:
I've designed lighting and costumes for 2 separate productions of Yaga by Kat Sandler, so would love to do a set for that one somewhere! And I'm always excited to do a non-literal design for any musical.
Special Project you've worked on to date, and why it left an impression on you: 
Recently, Yaga at the Belfry Theatre with an all-Indigenous and Ukrainian cast and creative team. Such a good process and I feel that we made something cool and beautiful. Also  Pippin, produced by ViC and WST in 2018, had a dream team where we worked so collaboratively to make a cohesive production across every discipline.
Upcoming/What's next:
Spending some time focusing on my day job as Education and Enrichment Manager at the Royal Manitoba Theatre Centre, teaching and designing for Manitoba Theatre for Young People theatre school, mentoring a young designer through Creative Manitoba, and doing some dance performances, with more design work to come in the spring!