Inspired by the original 1936 cult film of the same name, this outrageous musical comedy takes a tongue-in-cheek
look at the hysteria cased when clean-cut kids fall prey to marijuana, leading them on a hysterical downward spiral filled with evil music, sex and violence. Don't miss this musical marijuana satire complete with munchies.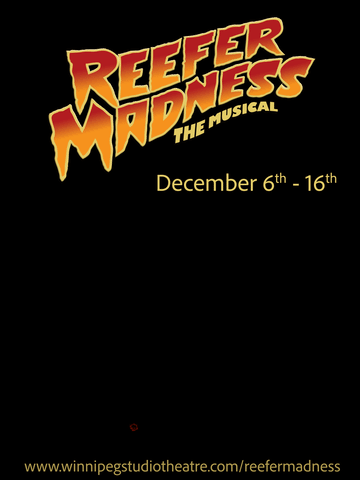 Dec. 6 – 16, 2018
Tom Hendry Warehouse Theatre – 140 Rupert Avenue
Suitable for 18+
Assigned Seating
#InHaleTheMadness     #ReeferMadnessWpg
Sign up for our newsletter to be notified about Reefer Madness contests, information or events!
Creative Team
Director – Kayla Gordon
Music Director – Paul De Gurse
Choreographer – Brenda Gorlick
Stage Manager – Ali Fulmyk
Assistant Stage Manager – Katie Robinson Hoppa
Cast of Reefer Madness
Showtimes: Dec. 6, 8:00 Dec. 7, 8:00 Dec. 8, 8:00 Dec. 11, 8:00 Dec. 12, 8:00 Dec. 13, 8:00 Dec. 14, 8:00 Dec. 15, 8:00 Dec. 16 2:00